7 Go-To Bars for Golden Hour in Lisbon
Lisbon's golden hour or lusco-fusco (in local lingo) it's just next level. Add a beer or a colorful cocktail and you have the perfect ending to a day of exploring town.
No time to read, just hit me with ultimate Lisbon's Golden Hour Bar list:
Banana Café -Torel or Terraço 23 @ Torel Park
Clube Ferroviário @ Santa Apolónia
Rio Maravilha @ LX Factory
Topo Chiado @ Chiado
Ponto Final @ Cacilhas
2h Sunset Cruise @ Tagus River
Torel Park, in a not-so touristy hill of Lisbon, it's a perfect place for a sunset drink.
In this leafy park, you'll find not one but two places to have a drink while the sun sets in the horizon. The first: Banana Café -Torel, it's a chilled kiosk, inside the park, with a breathtaking view over Lisbon and great for a beer with friends.
If you're looking for something more upscale, just head to the Torel Palace hotel, where in its secluded terrace Terraço 23 there are cocktails and eats available till midnight .
After exploring Alfama, head down to Santa Apolónia to Clube Ferroviário before the sun sets.
Even though the cabaret inspired interior will certain be worth another visit. If you want to catch the golden hour go up to the terrace, ask for a cocktail and enjoy the clear view of Tagus River.
It might be quiet or with some party going on, since the space caters for a lot of different events. Either way, just go with the flow.
Rio Maravilha it's already one of Lisbon's most well known rooftop bars.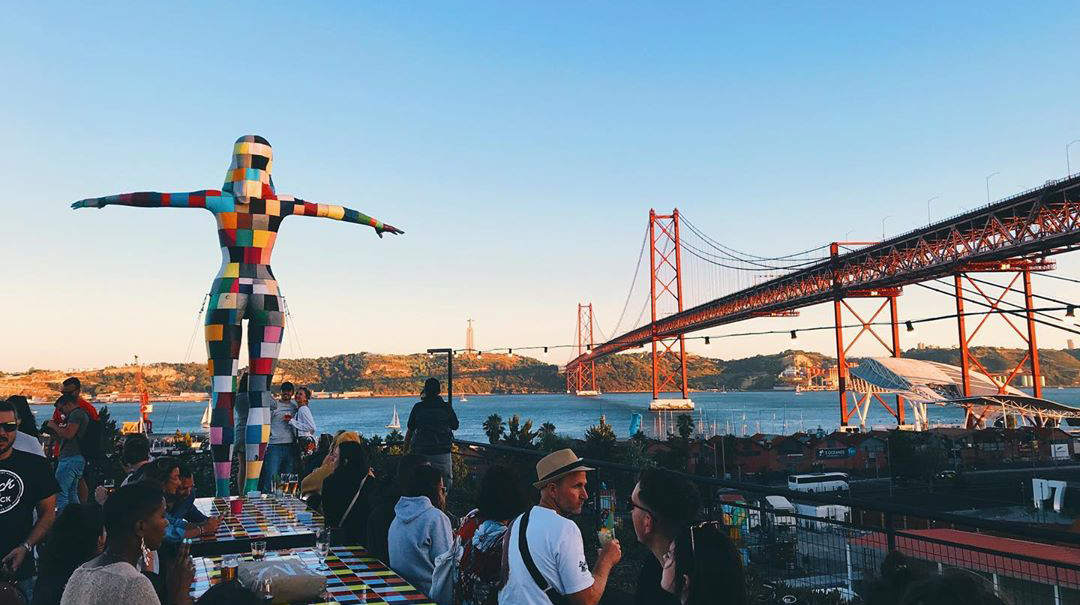 You can't go wrong with this one in the trendy area of Alcântara. The view it's just amazing and a perfect fit for your IG feed. But it's often very crowded so a lot of locals go for the bars without a view in LX Factory if that means that they can grab a seat. You can do like locals, take a pic and then go down for a less pricey beer.
Want to know more about things to do in Lisbon? Just message aLocal here 👊🏼
Topo Chiado in downtown Lisbon's it's a hidden bar with a great vibe for the end of the day.
Located just behind one of Lisbon's most scenic ruins - Convento do Carmo - and the free back door to the popular Elevador de Santa Justa, both worth a visit, it's Topo where you can choose one of the lounge chairs and embrace the picturesque surroundings at golden hour. If you're in town for the summer, try to catch one of their movie nights.
What better way to enjoy Lisbon's lusco-fusco than sipping wine in the Tagus river.
📸©getyourguide
Grab your group of friends - we know you're here on a bachelor(ette) party - or some random strangers in the street and book a boat for 2h scenic stroll on Tagus River. With wine. And a golden sunset. Mic drop.
An alternative way to enjoy the Lisbon's sunset it's from the river south bank.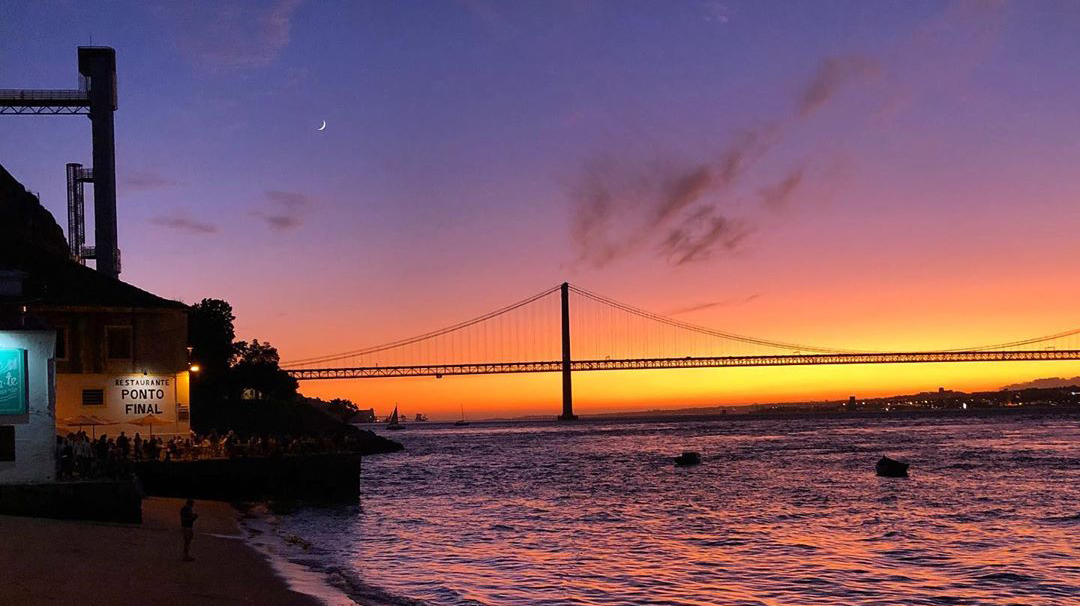 So, get the ferry to Cacilhas at Cais do Sodré ferry station. Count for at least good half an hour or more before the sundown, it's a long walk till Ponto Final restaurant. Then make sure to grab one of the yellow chairs at the esplanade and stay for grilled fish or seafood dinner.
We will finish this post by shamelessly promoting aLocal, our text-based assistant for today's travelers. So, if you want to know more things to do in Lisbon, message us and we'll do our best to point you in the right direction. FYI: it's free and in FB Messenger so no need to download another app✌🏻
Back to Blog